RSI with MA signal Binary System is one of the greatest and hottest Forex trading systems around the global financial market. It has been built with high quality Forex indicators based on momentums and market trends. This system works best with steady performance especially during the Forex market hours of London and New York sessions.
RSI with MA signal Binary System works great with all kind of currency pairs and fits with any timeframe chart available at the trading terminal. Thus this system is suitable to all sort of Forex traders around the market.
RSI with MA signal Binary System Overview
After the installation of RSI with MA signal Binary System at your mt4 terminal, your chart will be appeared as the following image:
| | | | |
| --- | --- | --- | --- |
| Time Frame | Currency Pairs | Indicator Factors | Ratings |
| Any | Any | 5 | 9.8/10 |
RSI with MA signal Binary System Anatomy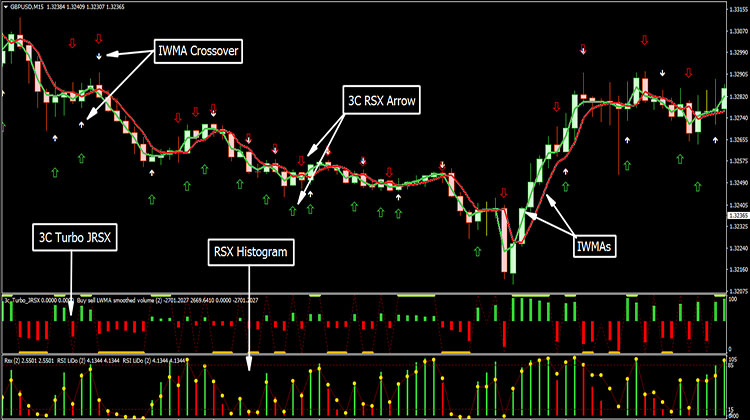 IWMAs: These dual MA indicators represent the Exponential Moving Averages of past 2 day period with different parameters. It produces crossover signals with other arrow indicators and helps to detect the right Forex trend at the right time.
IWMA Crossover: It plots the IWMAs crossover signals with its up and downward arrows. An upward arrow signals the bullish trend and a downward arrow represents the bearish trend of the market.
3C RSX Arrow: These arrow signals the current market momentum with its arrow signals. Downward arrow indicates the bearish momentum and upward arrow signals the bullish momentum of the market.
3C Turbo JRSX: This is a momentum oscillator. Its bars are green and above zero level signals the bullish momentum and red bars with negative values represents the bearish momentum.
RSX Histogram: It works as a trend meter and signals the real time trend strength during Forex market hours. Its histogram value rising signals the bullish trend is getting stronger. On the other hand, a falling pattern of its histogram bars represents the bearish strength of the trend.
 RSI with MA signal Binary System: Buy Parameters
The signaling bar closes above the IWMAs levels
IWMA Crossover plots upward arrows
3C RSX Arrow is upward signaling the bullish momentum
3C Turbo JRSX is green and above its zero level
RSX Histogram is in a rising pattern
Set stop loss limit below the 3C RSX Arrow
Exit long whenever IWMA Crossover and 3C RSX Arrows are plotted as downwards, 3C Turbo JRSX is red and RSX Histogram plots a falling pattern of its bars
RSI with MA signal Binary System: Sell Parameters
The signaling bar closes below the IWMAs levels
IWMA Crossover plots downward arrows
3C RSX Arrow is downward signaling the bearish momentum
3C Turbo JRSX is red and below its zero level
RSX Histogram is in a falling pattern
Set stop loss limit above the 3C RSX Arrow
Exit short whenever IWMA Crossover and 3C RSX Arrows are plotted as upwards, 3C Turbo JRSX is green and RSX Histogram plots a rising pattern of its bars