Gaussian Rainbow Indicator is a multi-moving average based trend-following forex trading indicator. It uses a set of eight moving averages of different parameters to form a cloud that tells about the market momentum, trend direction, and possible trend reversal conditions. As a trader you can apply it to trade any forex currency pair you like including any sorts of timeframe charts within the forex MT4 trading platform.
Gaussian Rainbow Indicator is very much dynamic and reacts pretty quickly with the changes in price action. This is why it lags less and can plot the trend signals immediately. Newbie traders who look for simple trading indicators can try it for settling down with daily trading.
Gaussian Rainbow Indicator Overview
Download the indicator and install it on your MT4 system. Once done, your chart will appear like the following image"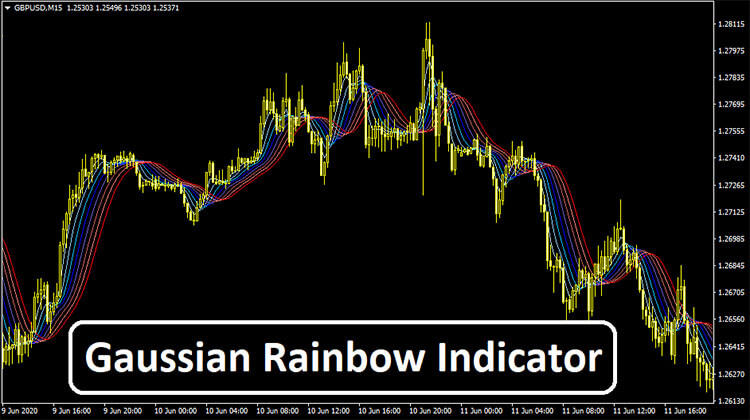 Also Get: Forex No Deposit Bonus
Gaussian Rainbow Indicator Explanation
Gaussian Rainbow Indicator uses a set of eight moving averages that forms a cloud signaling all about the current trend of the market. Fortunately, you don't need to count every single moving average of this indicator but just to follow the cloud direction.
The averages are divided into two categories, slow and fast. They intersect each other for plotting crossovers. But the interesting fact is you don't need to look for a crossover either.
Just follow if the price is holding its position above or below the trending cloud of the indicator just like we use a moving average. Furthermore, you can also determine the trailing stop levels of any of your market entries by following the changes in the cloud levels.
Gaussian Rainbow: Buy Conditions
Price holds its position above the rainbow
A bullish candle forms right at the top edge of the cloud
A buy can be triggered at the break of the respective bullish bar's high
Set stop loss below the low of the trend-cloud
Exit long/take profit whenever a bearish candle closes deep inside of the rainbow area
Also Read: RoboForex Broker Review
Gaussian Rainbow: Sell Conditions
Price holds its position below the rainbow
A bearish candle forms right at the lower edge of the cloud
A sell can be triggered at the break of the respective bearish bar's low
Set stop loss above the high of the trend-cloud
Exit short/take profit whenever a bullish candle closes deep inside of the rainbow area